news
Reviews of In the Country of Women:
New Article the LA Times: "Finding a Geography of Home in the Inland Empire"
Newest Short Story: "The Perseids"
New Story from Amazon Originals: 'The 
Princess of Valencia' by Susan Straight
In prose both heartrending and harrowing, National Book Award finalist Susan Straight conjures up the unforgettable voice of a mother coming to terms with her worst nightmare.
Twenty-year-old Jacinta grew up in her mother's family home in Santa Ana, California, surrounded by a grove of orange trees. Little by little, Jacinta's mother lost her—first to college, then to a boy she said she loved, and then, finally, to the rage of a school shooter. Snap. In an instant it was all gone. All she has now is her daughter's phone. Like an album, gripped in the palm of her hand—texts, photos, messages, and videos of her daughter's first three years at college. With it, Jacinta's mother is reconstructing her daughter's last three weeks.
In this uniquely moving exploration of mourning, fury, and reminiscence, Susan Straight evokes—through a grieving mother's devastating internal monologue—both a modern-day nightmare and exquisite proof of love's extraordinary power to overcome it.
A few weeks ago, I spent time with a woman my age who, like me, was born here in Southern California, grew up with many siblings and not much money, and received an annual pair of ungainly Toughskins jeans, from Sears. We smiled shakily about hating those jeans. We also spoke about her youngest daughter, who went to high school with my youngest daughter, who prepared for her life with children's theatre and cheerleading, who had planned to marry the boy she met in high school, who had dressed in festival clothes and put on makeup and taken Instagram photos and then walked onto a concert ground last year in Las Vegas, where a musician was singing as she was shot and killed, falling into the arms of her boyfriend.
Read the rest on newyorker.com
Book Review in the LA Times: 'Freshwater' by Akwaeke Emezi
There is a devastating moment in "Freshwater," the debut novel by Akwaeke Emezi, when the main character known as Ada gives herself over completely to the spirit that has implanted itself into her while she was in her mother's womb.
February 4th, 2018 Op-Ed in LA Times: Forget it secessionists—we're one California.
"People are often egregiously aggrieved, but divorce doesn't ensure happiness."
Read more by clicking here. 
Speaking Events in Turkey and Florida
From November 1-3, Susan will be attending and keynoting the American Studies Conference in Ankara, Turkey. Then, on November 16th, she will be speaking at Florida International University. Quite a trek!
Story Map in Collaboration with ESRI
Recently featured this summer in Granta, Susan had the profound experience to help design and direct an interactive map with ESRI, a leading global geo-communications firm, entitled "The American Experience in 737 Novels". This interactive map is based on the books Susan read by authors writing in and about their land, their home, their people. As Riverside has always been a backdrop for many of Susan's stories, the same can be said for countless other authors in America. Check out the map and enjoy the experience.
Piece in The Guardian
Featured in The Guardian, Susan has penned an updated version of Jonathan Swift's essay from 1729 regarding the treatment of the poor for the new Administration here in the United States.
When Trump Comes to Town...
Featured in The New Yorker, Susan discusses the recent trip of the likely GOP nominee...
A Personal Piece in The LA Times
Check out Susan's piece from April, 2016 on why she became writer. Click here. And, check out who else, along with Susan, are now Critics-At-Large for the LA Times.
Video Bio of Susan - Kirsch Award Winner
A Battle in San Bernardino
Susan gives a local's glimpse into the gun violence that both unites and divides our nation. Click here. 
TEDx Talk by Susan in Redondo Beach
Death in the bookmobile
Susan reflects on the bookmobile that used to drive around the Alpha Beta where she spent hours reading the likes of James Michener, John le Carre, and Agatha Christie. Published in the LA Times and readable here. 
USC Talk
Sunday Rumpus Times
The Sunday Rumpus Essay by Susan Straight: Van Halen and the Butcher's Apron. Check it out.
New Essay in The New York Times
Making babies, just to make ends meet. 
TEDx Talk in Redondo Beach
Watch Susan give a reading at an independent TEDx event in Redondo Beach. Click here to go to YouTube.
"They brought her a body. They brought Glorette in and laid her on Marie-Claire's couch. Like it was Louisiana, when she was a child and their neighbor Michel got thrown from the mule and kicked in the head and they brought him to Auntie Viola's house and she told Marie-Claire, Sit here with me, bebe, so I don't lonely while he don't left alone."
Now, in order to enjoy this story, you need to subscribe to One Story. Of course,  you should subscribe because they are a great, responsible, and important journal.
Also, at the website, you can enjoy the Q&A between Susan and Hannah Tinti.
Bay Area Reviews
San Francisco Chronicle: "'Between Heaven and Here' is clearly her passionate effort to get [the stories of Riverside] told."
Zyzzyva: "Imbuing her characters and setting with a rare brand of unexpected and somehow vibrant gorgeousness, Straight tells a story thrumming with love. This, it seems, is her specialty: examining the suffering in everyday places and people and threading their stories with beauty."
GoodReads.com Conversation
Susan recently took place in "Ask Susan Straight" on goodreads.com. Check out some of the interesting questions, comments, and discussions.
Click here for the good stuff.
A Fierce Writer, Writing About a Fierce Mother
BarnesandNoble.com sees "Between Heaven and Here" partly as a book about a fierce mother. Susan responds and recommends five other books about those fiercesome ladies.
"I started with images of a child I tried to help -- one with cigarette burns -- and a pregnant woman killed and left in a shopping cart, whose body was first seen by my brother-in-law. These images got me thinking about what makes a good mother, what makes a fierce mother who tries to keep her child alive and unhurt, and what makes a child love his mother no matter what happens? The following are five books about fierce mothers and their children."
Check out those other books here.
 The gripping, sometimes brutal book is filled with graceful details plucked from Straight's observations of nature. She is a master of minutiae, pointing out the way the backs of sunflower petals look in the sunlight and how baby bees cling to a flower's center or describing the way the fronds of a towering palm tree outside a kitchen window light up when the moon rises behind them so that the tree resembles a cosmic sparkler. This last detail is used to tear-inducing effect in "Between Heaven and Here."
Every Story has a start. From Susan's Socal Focus on KCET
"Story is when something won't let you go, when you keep hearing the voice or seeing the image, when you write a novel filled with people who are trying to survive with humor and ingenuity."
Read the rest here.
In the Mood for a Scroll? Check out Between Heaven and Here on The Daily Beast's Hot Reads
The Daily Beast says...
"The plot could fit in an episode of CSI, but a sharp and glancing line like "Why have buttocks? What good are they? And hair?" hardly seems to belong but pops up everywhere. It shows a writer who takes her time, even revels in it—in the past, present, and future. She reaches across the years, back to A Million Nightingale and onward to Take One Candle Light a Room. How is it that Between Heaven and Here is only about 200 pages? It is a very rich 200 pages."
Read The Beast's roar by clicking here...no here.
Jenny Shank gave Between Heaven and Here a lovely review in The Dallas Morning News.
"How can a novel that is essentially the story of a dead prostitute prove so uplifting? It must be some kind of black magic that only Susan Straight can work."
To read the review, please click here.
From the Boston Globe...
Take the community storytelling approach of Sherwood Anderson's "Winesburg, Ohio," but populate it with the cast of HBO's "Treme," then add the pathos of Toni Morrison and change the setting to California's Inland Empire, just east of Los Angeles, and you've got something close to novelist Susan Straight's achievement with her trilogy of novels centered on the fictional communities of Rio Seco (modeled on Riverside) and of Sarrat, a strange enclave of Creole culture just across the river. "It wasn't even a neighborhood, like the Westside," explains Sidney, a young man entranced with Sarrat and its people: "It was another world."
Read the rest of the review here...
A Nice Review from a Nice Book Blog - The Rumpus
"The mélange of voices in Straight's work creates a plangent refrain, like a strain of music underlying everything that happens to her characters: their choices, their desires, and their habits, all of which she unflinchingly and compassionately describes."
—Mimi Albert
Read the rest of the review...
Between Heaven and Here is, well, here.
Susan Straight weighs in on what the candidates should read. LATIMES.com
'Susan Straight meditates on her writing roots: Where I'm From'
Here's a link to Susan's latest article in the Boston Globe. Sadly, it's not free. We will try and post it here on the website soon.
'Literature and the gift of words' — A precious offer from Susan Straight.
Susan has long believed in giving away her work. Read more about her perspective and what she's willing to offer. 
One reader's response to the article:
What a delight it was to read the lovely Op-Ed article by Susan Straight. Her words immediately took me back to my grandparents' apartment in the Bronx on Christmas Day 1951, when my Aunt Vera presented me with a shiny, fat book titled "Fairy Tales." I remember taking the book to a back bedroom and reading it in its entirety that very night. This is such a vivid memory that I believe it marked the beginning of my lifelong love of books and reading.

Thank you to Straight and all the other people who put books in the hands of children.
New Op-Ed piece featured on LATIMES.com
Susan sheds some much needed light on the reality of immigration; the forgotten lives hanging in the balance; how the issues of humanity are often lost in the focus of policy and personal agendas.
Essay selected for Best American Essays 2011
Featured in Believer's October, 201o issue, 'Travels with My Ex' has been selected for the Best American Essays 2011 series. For a preview, click here to visit Believer's site. For more info on the book and to see the other contributors, including Zadie Smith, Chang-Rae Lee, and Christopher Hitchens, click here.
Listen to Susan on NPR's Tell Me More Bookclub
Take One Candle Light A Room was selected as the final book in NPR's Tell Me More Bookclub. Listen to the conversation on NPR.com.
Susan Appearing at the West Hollywood Book Fair 10/2
Along with several other special guests, Susan will on-hand to discuss her new book, Take One Candle Light A Room. Here is more info, although most can be found on her website.
Stone Arabia Roundtable - Part Four with Susan Straight
Click here to read Susan's discussion.

Click here for the previous discussions.

"This is the fourth of a five-part roundtable discussion of Dana Spiotta's Stone Arabia. Additionally, Spiotta will bein conversation with Edward Champion on July 20, 2011 at McNally Jackson, located at 52 Prince Street, New York, NY, to discuss the book further. If you've enjoyed The Bat Segundo Show in the past and the book intrigues you, you won't want to miss this live discussion."
Susan Review's Tayari Jones' Silver Sparrow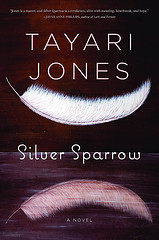 Click here to read Susan's review featured in the LA Times. This is Tayari Jones' third novel. You can read more about her work at www.tayarijones.com.
Recent Interview with Susan on BlogCritics.org
Check out the interview here.
LA Times Festival of Books Recap
Here's a little recap on the panel Susan sat on with Mona Simpson and Francine Prose. Enjoy!
Gina Berriault Award
Last month, Susan was honored to receive the 3rd annual Gina Berriault award. Here is some info on the award and some info on the event Susan attended in San Francisco.
Here's an indiebound link to Gina Berriault's books. Recommended!
Read about how Susan used to work in a Mobil station and was almost killed by an angry mob you may have been in.
'Mildred Pierce' and More Books You Should Read
Susan shares, along with several other writers, about a book she never wanted to read and why she loved every bit of it...you know, the whole don't judge a book by its cover actually holds water thing.
New Essay on HuffingtonPost.com
Susan's new essay entitled "Teacher Layoffs: Spring Rite or National Shame" has just hit the net. Check it out today and join the conversation!
ESPN Magazine's Premier Fiction Issue
Susan's story, Angel Wings, was chosen to help launch the ESPN Magazine's first fiction issue. Check it out!
GoodReads.com
Join the conversation at goodreads.com for this year's winter fiction panel, where Susan will be a guest panelist.
Video Interview on Connotation Press
Interviewed by Ken Robidoux, Susan shares many stories from her life that influence and infuse themselves into her work.
Featured in Black Clock Issue #13
Check out the prolific L.A. magazine's "mix tape" edition, featuring work since the magazine's inception in 2004. Along with Susan's story, you'll find Aimee Bender, Jonathan Franzen, Don Delillo, and Janet Fitch, among others.
Best of 2010 Lists Are Coming Out...
...and Susan's Take One Candle Light A Room is right there on them.
Los Angeles Times - Best Fiction Holiday Gift Guide
(along with fellow UCR prof Andrew Winer's The Marriage Artist)
Kirkus Reviews - Best Fiction of 2010
Washington Post - The Best of Fiction and Poetry
Susan's Golden Gopher in The Los Angeles Times
In this new article, by Hector Tobar, we learn more about The Golden Gopher and how Susan brought it to life in her new novel, Take One Candle Light A Room.
Essay "Sula" Featured on TheMillions.com
You can now read Susan's essay, "Sula," previously published in Bound to Last: 30 Writers on Their Most Cherished Book. To read the essay, click here. To buy the exceptional book, please click here.
Pittsburgh Tribune-Reivew Reviews Take One Candle Light A Room
Here is a link another gracious review from our friends in Pennsylvania.
Washington Post Reviews New Novel
The Washington Post says that with her new novel, Take One Candle Light A Room, "...Straight adds another complex, compassionate achievement to her distinguished body of work." More here.
Interview on Mixed Chicks Chat
Recently, Susan had the chance to sit down with Fanshen Cox and Heidi Durrow - the hosts of Mixed Chicks Chat. Listen in here.
Bookworm Interview w/ Michael Silverblatt - Nov. 11
Susan recently sat down with legendary Bookworm host Michael Silverblatt to discuss her new novel. Stream, podcast or listen to KCRW.
The New York Times on Take One Candle Light A Room
Check out The New York Times review of Susan's new novel.
Essay on Voting...On Huffington Post
On election day, Susan Straight wrote about where, why and who she votes with. Read more here.
Kind Words from Tennessee's Chapter16.org and Reading Tonight in Memphis
To all the fine readers in the great state of Tennessee, Susan Straight will be reading tonight in Memphis (details to your immediate right on this screen). Also, thanks to Susannah Felts and the dedicated readers at Chapter 16 for the kind words about Take One Candle Light A Room. See you tonight in Memphis!
New Essays
In the last few weeks, Susan Straight has had new essays featured in the Los Angeles Times and on Powell's Website. Check them out on the Not Books page.
L.A. Times Review
Just released, The Los Angeles Times says Susan's new novel "continues her examination of life well east of Los Angeles, and the pull the people and places there continue to have even for those who leave."
Take One Candle Light A Room Now Available
On October 12, 2010, Susan Straight's sixth novel, Take One Candle Light A Room, will be available. For more information on her book, please click here.
events
No Events Scheduled